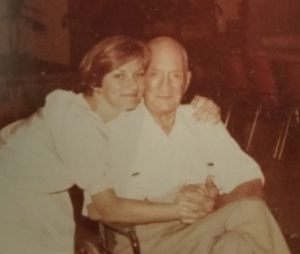 My grandfather died a few days after he had surgery on some veins in his leg.  During the surgery, a blood clot formed when they tied off his femoral artery for more than 3 hours, and, while the surgery was technically successful, it took a few days for the blood clot to make its way through his system and hit his heart or lungs, or maybe his brain. We'll never know exactly what the clot hit, only that it hit some vital organ causing powerful and grotesque convulsions followed by almost immediate death.
Popa died while Mom and I were visiting him in his hospital room, and we were all watching The Honeymooners on his hospital room TV.  Mom was sitting in a chair near his bed and I was laying to his right in the bed bedside him, I had my left arm around his neck and he was holding my right hand.  When Popa began convulsing, Mom wasn't able to hold herself together so, as nurses rushed into the room to help Popa, some of them tended to Mom by getting her out of there.
Because of me being in the bed with him and because of the configuration of the bed in the room, I was trapped beside him as hospital nurses tried to revive him.   For about 20 minutes.
After I called off the efforts to resuscitate him, the nurses helped me escape his "death grip" on my right hand and wrist, and I dealt with some paperwork out at the nurse's station.  I went to check on Mom who was in a room down the hall and, after being sedated, was asleep.
After that, there was nothing more to be done at the hospital.
Within about 30 minutes of Popa dying, I left the hospital and began to let down.  I sat in my car for a few minutes wondering what to do next..  It's one of the most bizarre feelings ever and one I experienced again after the deaths of both Mom and Daddy – just a few minutes after someone you adore dies, you're supposed to get on with the task of living without them.
Where am I supposed to go and who am I supposed to be with?
Mom's indisposed, Daddy's not an option because he just doesn't do this type of emotion plus he's at my parents' home cooking which is what Italians do when someone dies, my sister was not at the hospital visiting Popa when he died – Mom and I were – and she's riding this out with her family which I'm not part of.
I didn't want to go back to my flat and be alone so I went to my friend Roseanne's house, she and I worked together and we were close.
She was older than me by about 10 years, she was big, happy, beautiful, smart and she had a boyfriend who had a rubber fetish.  It was pretty common for her to come home from work and find him sitting on top of the dining room table which he would cover in a rubbery plastic table cloth, he'd be wearing rubber pants – the kind you'd wear for incontinence – and a plastic shower cap.   Arriving unannounced, I knew I ran the risk of interrupting something I'd spend the rest of my life trying to unsee, but I was undeterred.
I got to her place, knocked on the door, she answered and I just lost it.
I sputtered out the words to tell her that Popa had just died, I started sobbing and I just sort of fell into the front of her big beautiful body, throwing my arms around her and hanging off her, like I might not be able to stand up on my own anymore.
She stepped forward onto the stoop, backing me up a step or two.  She put her hands on my shoulders and moved me even farther back, and then she said . . .
We have company, you can't stay.
Oh.  Okay.
So I left.
I sat in my car and here's how I felt.
I'm alone in this and there isn't anybody to help me.   I'm broken all the way down and I need and want help but help is not available so I'm going to have to manage this by myself. I'm going to have to pull myself together.
When I tried to think of what I for sure had that might help me feel like I could get through it, the only things I could come up with were my faith in myself, and my faith in God, and at the very bottom of my faith was love.
Essentially, my strategy for dealing with the immense grief of how I experienced my grandfather's death was for me to love my way through it.  Love is what helped me start my car and safely drive it to my flat.  Love is what helped me get through losing Popa, what helped me deal with the graphic nature of seeing how he died and love is what helped me find a way to neutralize the way he last held me.
Were there other options?  Of course.
What's the opposite of love?
Being angry wasn't an option – I could never have produced enough rage to come close to expressing my devastation.
Could I have found someone else, anyone else, who would have ministered to me in that moment, who would have prioritized my needs over theirs?  Maybe.  But after the initial shock of Roseanne not being able to help, I realized it was tremendously unfair to blind side someone with such enormous emotion.  In that moment, I accepted that I couldn't rely on others to help me offload that or any other trauma that might come my way so, really, when you think about it that way, what else is there but love?
In the 45+ years since Popa's death supercharged my ability to love, when shit gets real I've never relied on anybody to help me and I've never expected access to assistance.
I've gone through surgeries alone, I've been really really sick alone, I've spent birthdays and holidays alone, and I've continued to lose loved ones and go through the aftermath alone.  I work alone.  I live alone.  I am alone.  But I'm full of love, and I love being alone.  See how that works?
And I've become quite practiced in applying the "love technique" across domains.
That's the really cool thing about love – everybody wants it, everybody needs it, and every single situation you can imagine goes so much better with love, love, love.
Since Trump won, I've doubled down on love.
Here's why.
Since Trump won, for the first time average Americans know first hand what it's like to have a country powerfully emotionally divided.  Since Trump won, we all know and love a bunch of people who completely disagree about big, important, life-changing and world-changing issues.
Many of our friends feel destabilized by the disruption candidate winning and many of our friends feel destabilized by the disruption candidate disrupting – Hello Taiwan!   Many of our friends feel boastful about their candidate winning – "lock her up" "drain the swamp" and defensive about the relentless attacks on Trump that come from pretty much all directions.
Politics in America has become an angry emotional mess and with the holidays coming up, our normally high stress levels are red lining.
What's the answer?  What's the fix?  What's the solution?  How do we cope?  How can we manage?
Love. Love. Love. Love.
Please join me in unabashed, unapologetic, undeniable love of everyone.
IT'S A BUMPERSTICKER!

If you'd like one, PayPal me $15 domestic/$20 international, provide your postal address and I'll mail one to you.  My PayPal email address is [email protected]
Loving everybody is the answer, I promise.
I love you.